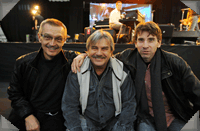 Emil Viklicky "Grand Moravia" trio
Emil Viklický
piano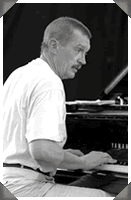 Emil studied mathematics at Palacký University Olomouc, Czechoslovakia. Almost immediately after his Prague debut in Ludek Hulan´s Jazz Sanatorium in the early 1970´s, Viklický became a key player on the Czech jazz scene. He also worked with Karel Velebný´s SHQ, the Prague Big Band, the Czech Radio Jazz Orchestra and the Super Quartet. Emil Viklický earned significant acclaim with his very first recording "In Olomouc Town" in 1977, presenting a remarkable synthesis of modal jazz concepts, Moravian folklore and references to the legacy of Leoš Janáček. In the 1977-78 Emil studied at Berklee College of Music in Boston with Herb Pomeroy. He also developed valuable musical friendships in USA. Soon Emil recorded a number of albums: Window and Door with the guitarist Bill Frisell, CD Together, a piano duo with James Williams, Midgets with Joe Newman, Magic Eye with Scott Robinson. The most important are recordings with Emil arrangements of Moravian folk and L.Janáček themes: CDs "Morava", "Moravian Gems", "Sinfonietta", "Kafka on the Shore" with George Mraz, Billy Hart, Lewis Nash, Iva Bittová, Zuzana Lapčíková and Jiří Pavlica. At present, Emil Viklický "Grand Moravia" Trio are drummer Cyril Zelenak or Tomáš Hobzek and contrabass player Petr Dvorský.
Petr Dvorský
doublebass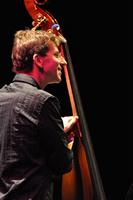 Graduated The Jazz Conservatory of Jaroslav Jezek in Prague and studied classical music at Prof. Jan Kment, Prof. Vaclav Fuka and Prof. Jiri Valenta. Since 1990 he has been an integral member of the Czech jazz scene and has been collaborating with many great Czech and abroad jazz musician, such as Emil Viklický, Mark Vinci, Steve Lacy, Ingrid Jensen, Markus Printup, Randy Brecker, Julian Nicholas, Lew Tabackin, Jaroslav Jakubovic etc. In 1994 he was rewarded at the international competition Jazz Juniors in Krakow in Poland. For several years, Petr Dvorsky has been nominated in The Czech Jazz Society Award as a talent of the year.
Nowadays, besides cooperation with Emil Viklický Trio, Infinite Q and Points, Petr Dvorský is a member of The Czech Radio Bigband and is also active in jazz education area – for two years, he has been a director of The Summer Jazz Workshop in Prague organized by the Czech Jazz Society.
Cyril Zelenak
drums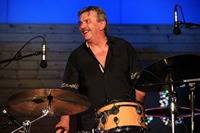 Started to play in various jazz and rock groups.
Studied drums with Laco Tropp, czechoslovak legendary drummer.
Cyril played with Collegium Musicum, Prudy, Czecho-Slovak Quartet /CSQ/lead by Emil Viklicky /1980-86/, Peter Lipa Quintet, Emil Viklicky trio 1987-1991 and again nowadays in 2010-14. He also plays many years with Gustav Brom Big Band, leading european bigband traveling with all kind of soloists in Europe. Cyril was named the best soloist in Hong Kong jazz festival 2011.
Jiří Stivín Jr.
drums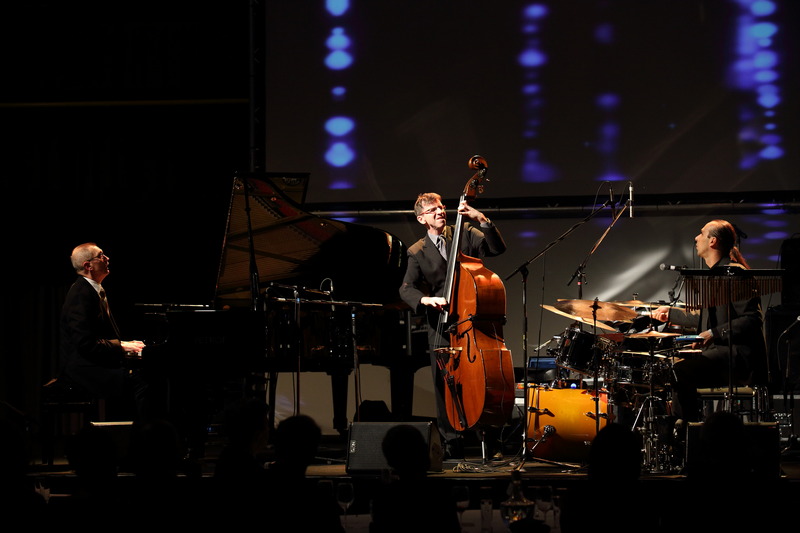 Jiří Stivín Jr. was born in 1975 in Prague, Czech Republic. He comes from known Czech musical family; his father is a famous Czech jazz flutist and saxophonist. He started to play drums at very early age and ever since as a teenager he stared to play professionally.  He won a Czech jazz award of Karel Velebný in 1995, in the same year he graduated Prague Conservatory under prof. Miloš Veselý.  Jiri Stivin is a very versatile player. His recordings include many different styles as jazz, rock, pop, classic music, folk and various alternative styles. 


Trio often works with
Marcus Printup
/USA/
Scott Robinson
/USA/ - ts, tp
Jaroslav Jakubovic
/USA/ - sax
Franco Ambrosetti
/Swiss/ - trubka
Steve Houben
/Belgie/ - as, fl
Bobby Wellins
/GB/ - ts
Eddie Severn
/GB/ - tp
Recenze, články
Trio 1995 - 2012
Laco Tropp
born on March 15 1939, in Kosice, Slovakia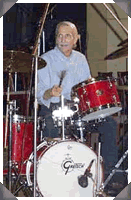 He began his carrier with amateur dixieland bands in Slovakia. For a short period of time he danced with the folklore ensemble Lucnica. He has been living in Prague since 1960 where he is known as one of the best jazz percussionists. He played with many famous bands: SH Quintet, Reduta Quintet, Jan Hammer Trio, Rudolf Dasek Trio etc. Since 1966, he has also played in Munich with prominent European musicians and American soloists — Benny Bailey, Booker Ervin, Don, Menz, George Mraz, Jimmy Jackson, Mal Waldron. He participated in many jazz festivals (e.g. in Prague, Berlin, Paris, Bled, Warsaw etc.) as well as many TV shows. He gave concerts all around Europe, in Egypt and Tunisia. You can hear Laco Tropp's renditions on twelve LPs and CDs. After he returned to Prague in 1991, he alternatively played with Karel Vejvoda's, Stepan Miklovic's and Emil Viklicky's ensembles. He toured England and Wales with Emil Viklicky's ensemble and played with them also at jazz festivals in Belgium and Germany.
Also with Emil Viklicky's ensemble, Laco Tropp participated in the Prague Spring festival in 1997 and 1999 when the band accompanied American soprano-saxophonist Steve Lacy and avant-garde multi-instrumentalist Roscoe Mitchell also from the USA. In March this year he joined Emil Viklicky's Trio and the Ad libitum ensemble of Zuzana Lapcikova on their concert tour round the United States (Washington D.C., New York). He recorded 4 CDs with Emil Viklicky Trio and other soloists.
František Uhlíř
born on July 24, 1950 in Usti nad Orlici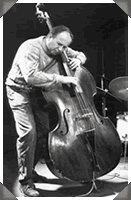 Frantisek Uhlir is a composer and a double-bass player. He studied classical musical at the Brno Conservatory where he graduated in 1971. Then he moved to Prague, where he quickly established himself on the music scene. He played and recorded with numerous jazz bands and soloists, for instance Karel Velebny's SHQ, Emil Viklicky Q, Laco Deczi Cellula International, Barok Jazz Quintet, Jiri Stivin, Karel Ruzicka, Josef Soska, Rudolf Dasek. He played also with many international groups and players, such as East-West Connection, Czech-Norwegian Band, Dave Weckl, Sonny Costanzo, Joe Newman, Woody Shaw, Ted Curson, Lou Blackbourn, Phil Wilson, Ben Bailey, Benny Waters, Lee Harper, Steve Houben, Tony Nahar, David George, Jarmo Sermila, Roberto Magris, Gianni Cazzola, Robert Morgenthaler, Wolfgang Lackerschmied, J. P. De Barbat, B. Dennerlein, Sal Nistico, Duško Gojkovic, Scott Hamilton. Frantisek Uhlir made several European and world tours with different ensembles (Germany, Netherlands, Belgium, Denmark, Norway, Switzerland, Italy, Spain, Poland, Hungary, Bulgaria, Yugoslavia, Russia, Canada).
He appeared in radio and TV shows both home and abroad. His album "Bassaga" (Panton) which features his own compositions, is one of the best in his extensive discography including over 20 LPs. Frantisek Uhlir has been the leader of his own group called F. U. T. — Frantisek Uhlir Team since 1987.